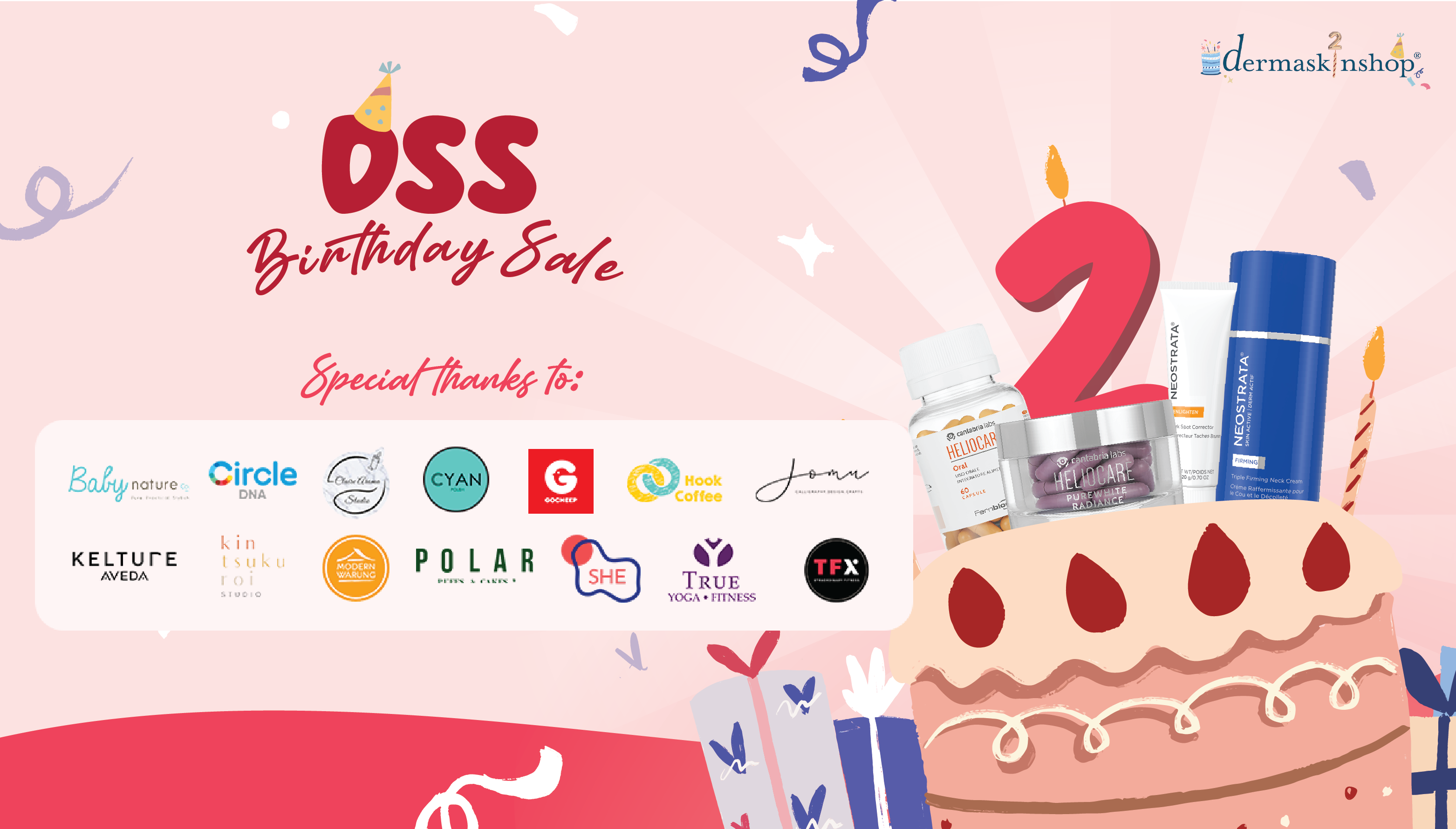 Another year, another milestone - This May, Dermaskinshop turns 2 so bust out your birthday poppers and confetti to celebrate this big milestone with us!
After having our brands operate on individual ecommerce sites for many years, we have finally made our big move last year to our one-stop online store - Dermaskinshop, where our loyal customers can enjoy their favourite products in one place and get exciting rewards.
To thank you sincerely for your unwavering support these years, we have partnered with various exciting brands to spice up our goodie bags and string of giveaways for the ENTIRE month of May!
Here are the beloved brands we work with this year:
Pure, Practical, Stylish – Are you a mom or mom-to-be? Because Babynatureco is having their Best Lowest Deals for their ANURI Baby Play Yard with Door Sets from 8-22 May! You can look forward to mega savings as it is priced at $199 instead of U.P $309. They are super easy to assemble, 100% made in Korea, has the highest quality assurance and most importantly, designed with your child's safety in mind. These yard sets have enhanced product safety features, ensuring you have a peace of mind while your little ones play, rest, and roll around. It is also the ONLY play yard that has Bioshield 75 Anti-Microbial durable protection coating, giving your child a non-toxic environment to be in as bacteria/mould growth is inhibited. With its double lock safety and anti-slip feature, you would not have to worry for your child unlocking from the inside. Snag this great deal for your little ones before it ends!
1 Swap – 500+ DNA Insights. How cool is that?! There's a reason why 100,000+ people worldwide swear by CircleDNA. It has the world's most comprehensive DNA test, revealing reports about your cancer risk, carrier status & Ancestry Fitness to Nutrition & Wellbeing (and many more…). Based on these reports, you can make heathier diet/lifestyle choices suited to your body needs. The great news is that it has a 99.9% analytical accuracy, giving you the most reliable and insightful results. You are also entitled to a complimentary 1-1 consultation when you use the DNA kit. Rest assured that your data will remain private and secured. Embark on your DNA discovery journey today by purchasing CircleDNA's DNA kit – Buy 1 Kit, save 10%. Buy 2-3 Kits, save 15%. Buy 4+ jkits, save 20%. Remember, health is wealth!
Waffles and ice-cream scented candles? Yes please! We are delighted to partner with Claire Aroma Studio – the producer of handmade and customisable scented candles. These candles are distinctly beautiful and come in all forms, shapes, and sizes – ranging from seashell candles to sushi candles to mooncakes ones. They are so realistic looking; we have to remind ourselves they are inedible. These customised candles are the perfect gift options for those who appreciate great scent and unique designs. Actually, we don't see who wouldn't appreciate these – wink.
Established in 2019, Cyan Polish aims to create unique and customized gel nail polishes that are fit for every occasion. Add that feminine and stylish touch to your nails, the perfect complement for your glamorous outfit! With umpteen choices ranging from dreamy blue to classy Merlot to Sparkly celestial ones, surely there's one that catches your eye. You can also get Cyan Polish's exclusive UV lamp needed to cure the gel. Do check them out at www.cyanpolish.com or on Instagram @cyan.sg!
Founded by a group of three friends in the midst of the Covid-19 outbreak on 28 March 2020, Gocheep hopes to incite nostalgic childhood memories of their customers through old-school snacks. Not only do you get to reminisce the golden days, but you also get to enjoy great savings with its never-ending signature bundle deals on Shopee! One of their best sellers include Pop-pop Chilli snacks. However, you can simply mix and match any 5 snacks for 15% off. To top it off, have your favourite snacks be conveniently delivered to your doorstep with your one-stop bundle mart of choice!
#GetHooked with Hook Coffee's wide range of coffees from the world's best farms today- from flavours like 'Crazy Rich Almonds' to those that guarantee to make you 'Specu-Lose your mind'! Spoilt for choice? You can always take HookCoffee's Coffee Matching quiz to find your ideal cuppa. If you're new to Hook Coffee, you are also entitled to a FREE V60 coffee making kit worth $14 with your first coffee bag subscription order. One of the best-selling coffee Shotpods would be The Godfather ShotPods. Strong and powerful like The Godfather of the mafia, this coffee offers an explosion in your mouth with an aromatic dark Italian roast and hints of burnt caramel and sweet dates for a sinfully luxurious mouthful and a satisfyingly bittersweet finish. Totally to die for. What are you waiting for? #Gethookednow!
The Jomu Co redefines the way people gift through a fusion of her calligraphy and lifestyle items. Operating in the space of personalised gifting, Jo infuses personal touches into seemingly mundane everyday essentials, lifestyle gifts and decor pieces. Check out their latest addition- Personalised Food Pods. The Oasis Food Pods are double walled insulated and comes with a foldable carry handle, making it super convenient to carry around! You can also curate a unique gift set (with a min. of 3 items) with their exclusive Build-a-Box tool for your precious ones. As a gesture of appreciation, you get to enjoy 5% off your Build-A-Box bundle!
Experience the KELTURE difference – In the eyes of award-winning stylists at Kelture Aveda, our hair isn't just any crowning glory. Our hairstyle can and should enhance our personality and confidence. That is why Kelture has been the go-to for many celebrities, both local and international. Kelture also infuses organic botanical innovation with the Art of Hairdressing, bringing nature to hair roots. If you are a university student, heres a good news! You are entitled to a cut + treatment/color/perm + photo for only $238! You can locate their store at Orchard Paragon today.
For You, With Love, From You -- Breathe, and feel your soul. Let the comforting combination of essential oils and crystals transport you to your safe happy space, even for just a few quiet moments of respite. Thankfully, Kintsukuroi stand by no harsh chemicals nor synthetic fragrances. You can always be assured to have the most divine scents with Kintsukuroi's all-natural therapeutic grade essential oils and premium ingredients. Do checkout their range of pocket-sized crystal 24k Gold Essential Oil Rollers, beautiful both in sight and scent. You can even purchase them as a bundle at only $80! (U.P $92)
Modern Warung caters yummy bites for any occasion. Check out their best-selling bite-sized baklava rings that come with various delectable flavours, from classic ones like dark chocolate with pistachio to premium ones like Ruby Chocolate with crispy white pearl. Savour every bite of its crispy, golden and buttery crust along with generous luscious fillings that are filled to the brim. Cheesecake lovers, you are also in for a treat! Ditch your calories and have a try at their highly-raved Specoloos burnt cheesecake. It boasts a rich creamy and cheesy interior and promises to leave you wanting for more. Like they say, Good Food Good Mood!  So Treat yourself, because you deserve this.
With over 100 varieties of pastries, cakes and other confectioneries, Polar Puff and Cakes take pride in selecting the finest ingredients to produce handmade quality pastries that are baked fresh daily. A cute and delectable option would be their Tokidoki Donutella – Cake Crowned with a delicious dark chocolate glazed donut. There is also a special bundle when you get the cake with a limited-edition Little Cactus Ez-Charm for $52.80. If you are craving for something savory, Polar Puff and Cakes have got you covered! Delight yourself with their mouth-watering signature curry puffs, which is voted to be the #1 Curry Puff by The Straits Times in 2015!
Quote from founders:
"For us, menstruation isn't a synonym of shame, it's a symbol of empowerment."
She Period aims to empower people in their period by bringing individuality and sustainability to a universal condition. Its iconic menstrual disc is the go-to option for those looking for an alternative to conventional pads and tampons. It holds up to the equivalent of 4 tampons, offering protection for an average of 12 hours. No more leaks! A hassle-free period indeed. If you're looking for an empowering girlie gift, turn your head to ShePeriod's Bloody Fierce Box. Not only does it come with a menstrual disc, it also comes with a sterilizer case and foaming cleanser. Besides, entertain yourself with a tragicomedy comic book that takes you on a journey thru the eyes (and wombs) of six different Asian women, from the girl who is just starting her very first period to the lady going through her menopause, and how they experience their monthly cycles. If this doesn't scream Period Revolution, we don't know what does!
Busyness won't be an excuse when play time meets fitness time. With a wide variety of classes, equipment and personal training programmes, True Fitness is where fun and fitness combine! For those who are new to personal training, Truefitness offers an X-FIT programme at $128 for 2 fitness assessment sessions. Not only do you get an in-body assessment, there will also be goal setting session, posture screening, a personalised workout program as well as x2 starter sessions with a personal trainer. For those who are keen on group classes, you can look forward to the camaraderie and accountability when working in a group setting-improving endurance, strength and physical appearance becomes a more enjoyable process!