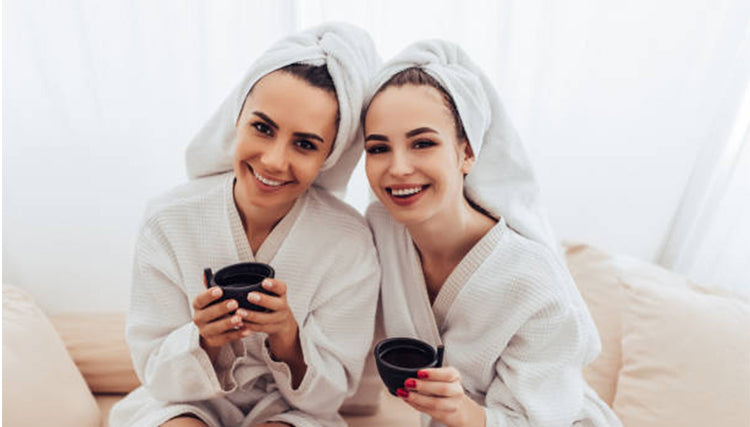 Sleigh bells are ringing, the holidays are coming. It's time to step up our skincare game to prep ourselves for the oncoming festivities.
Kick back, relax. After this year's whirlwind of events, we are all in need of a mental health day. And what better way to do so than to invite the girls over, light some candles, and have a very own girls' night in DIY spa-level facial at the comfort of your home. You don't need to have fancy equipment like microneedling devices or jade rollers, just follow these steps for an exquisite pamper session.
Step 1: Cleanse
Cleansing your skin is the first and most important step of any facial routine. Through a deep cleanse, your skin is prepped with a clean palette for the rest of the routine that follows. Proper cleansing with a suitable facial cleanser is crucial in removing every bit of dirt and excess oil that was built on the skin throughout the day.
Exuviance Purifying Cleansing Gel is an ideal start to your DIY facial. Its non-drying, gentle formulation gently washes away makeup, surface oils and impurities, while deep cleaning your skin. It also contains anti-aging properties of Glycolic acid (AHA) and Gluconolactone (PHA) to soothe and improve skin texture, ensuring that the other skincare products that follow glides on smoothly and absorbs efficiently into the skin.
Skin Tip: For those with oily and acne-prone skin, check out Exuviance Clarifying Facial Cleanser and for those with dry and sensitive skin, look for the Exuviance Professional Gentle Cleansing Crème.
Step 2: Steam
After the cleanse, evaporate your worries away with a quick 5 to 10 minute face steam. Not only Is steaming your face great for destressing, it can clean out pores to help in product absorption and improve the blood circulation of your skin.
First, heat up a large bowl of water to the point of steaming, be careful not to scald yourself!
Next, go grab a towel and drape it over your head and the bowl of hot water. Adjust your face towards and away from the bowl to make sure you are steaming at the adequate temperature for you.
It's important not to steam your face any longer than 15 minutes as it may cause your face to swell, especially for those with acne.
Step 3: Exfoliate
Once you're relaxed and your face is all steamed up, enter exfoliation. Exfoliating helps to unclog pores, preventing whiteheads and blackheads from forming. Exfoliating after steaming your skin thoroughly removes all dirt and impurities that may still be present after cleansing, allowing your skin to feel the full effect of the masks, toners and moisturizers that follow this spa-level experience.

The Exuviance Triple Microdermabrasion Face Polish is the one-stop solution for skin renewal. It contains Glycolic acid and papaya enzyme to help dissolve impurities, loosening dead skin cells to keep fresh cells on the surface to give a glowing complexion. With professional grade crystals, this face polish gently exfoliates to give you skin as smooth as a newborn baby.
Step 4: Face Mask
With skin refreshed, pores cleared, and impurities removed, it's time to sink into the good stuff. Masking is an easy way to treat your skin with all the nutrients it needs.
While it is recommended to choose a face mask that targets the skin issues that your skin may be facing, the Exuviance Rejuvenating Treatment Masque is a good all-rounder peel-off mask to give your skin the little oomphf it needs. It combines a miraculous blend of AHAs and PHAs to help visibly reduce fine lines and wrinkles, bringing you anti-aging benefits without irritation. Helping to revitalize stressed skin, this mask supplies your skin with natural antioxidants to improve skin clarity and luminosity, leaving your skin refreshed and rejuvenated. Power-packed with vitamins A, C, E and Pro Vitamin B Complex, the Exuviance Rejuvenating Treatment Masque provides moisturization like no other.
Step 5: Toner
Some may say that toner is an unnecessary step to the skincare regime, but we say that this is a step not to miss especially for those with an oily skin type. Applying toner with a cotton pad all around your face helps to shrink pores and restore the skin's pH balance, which is necessary after the use of cleansers and masks that may upset the skin's natural pH. By tightening cell gaps, it adds a layer of protection, reducing the amount of impurities penetrating the skin.
The Exuviance SkinRise Bionic Tonic is a toner that elevates this at-home-facial experience. Coming in 36 nutrient soaked pads, this toner revitalizes skin with eucalyptus and refreshing cucumber. Green tea extract present also serves to protect the skin from environmental factors, with a triple blend of PHAs and marine botanical to moisturize and condition skin.
Step 6: Moisturizer
To end off the pamper session, layer on moisturizer. Moisturizing is the secret to slowing down signs of anti-aging, so this is a step not to miss.
Containing strong fighters of anti-aging - Gluconolactone and Lactobionic acid, the Exuviance Evening Restorative Complex is a rich moisturizer the plumps and firms the skin, decreasing the appearance of fine lines and evens skin tone.
And there you have it, the comprehensive guide to the ultimate relaxing night in. Take a steamy shower and get ready for a pamper session, your skin will thank you when you wake up the next morning.